Indiana Culinary Trails
6 Autumns Food & Spirits
6 Autumns Food & Spirits uses local ingredients whenever possible to create fresh, made in-house cuisine. Try our delicious chicken parmesan or our popular knickerburger consisting of an angus beef patty, pepper jack cheese, bacon, our special sauce and fried egg served on a pretzel roll.
Pair your meal with our selection of wines from Satek Winery. If you prefer beer, we offer micro brews, craft beer and six beers on tap. We also offer the largest variety of bourbon north of New Orleans.
Whatever your choice of food and spirits, enjoy our view overlooking Lake Charles from our patio or our comfortable and charming interior. Our rustic ambiance is accented by original art pieces reminiscent of traditional taverns.
From the moment you enter our doors, you'll be treated just like family. A ball room is also available for your special events, from wedding receptions to wine and bourbon tastings. Dine and unwind at 6 Autumns Food & Spirits with your co-workers, friends or that special someone.
We invite you to eat, relax and enjoy the scenery.
Hours of Operation Monday - Thursday: 11:00 am - 10:00 pm Friday - Saturday: 11:00 am - 11:00 pm Sunday: 11:00 am - 8:00 pm
General Dining Credit Cards: Visa / MasterCard / American Express / Discover Meals Served: Lunch / Dinner Dining Classification: Family Cost: $$ = Sandwiches under $9, Entrees under $18 Menu Style: American Alcohol Served: Beer / Wine / Liquor Separate Bar Area: No Largest Group Served: 100+ Meeting Room Capacity: 100+ Discounts: Senior / Group Discounts / Kids Entertainment: No Entertainment Local / Organic: Local Meat / Local Produce / Organic Meat / Organic Produce / Vegetarian Diet Diet Specific: Diabetic / Gluten Free
Exterior Parking: Large Parking Lot Visible Signage: From Road / From Highway Handicapped Accessible: Not Specified
Interior Seating: Tables / Banquet Room / Booths Hostess on Duty: Sometimes Gift Shop: No Smoking: No Bathrooms: Not Specified
Recommended Dishes Sherris Salad, Knickerburger, Aussie, Fenders Fish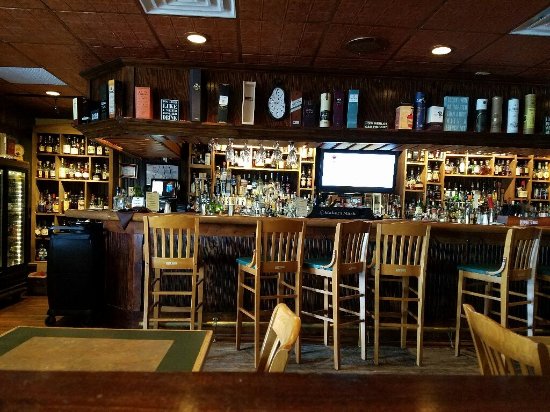 Restaurant Information:
Phone: 260-624-3644
Address:
3855 N SR 127
Angola, IN 46703
---
The Restaurant is part of the following trails:
---