Indiana Culinary Trails
Bonges Tavern
Hours of Operation
General Dining
General Information & FAQ's Phone: 765-734-1625
You Must Be Twenty-One (21) Years of Age to Enter!
Please call ahead to assure we can accommodate your party.
Reservations: Reservations for parties of ten (10) or more only.
Reservations must be confirmed by Bonges staff& leaving a voicemail does not confirm your party.
Credit Cards: Yes Meals Served: American Dining Classification: SS Cost: $15 and Up Menu Style: Alcohol Served: YES Separate Bar Area: YES Largest Group Served: Meeting Room Capacity: Discounts: Entertainment: Live Entertainment Local / Organic: Diet Specific:
Exterior
Parking: Large Parking Lot / Handle Buses Visible Signage: From Road / Sign on Building / From Highway Handicapped Accessible:
Interior
Seating: Hostess on Duty: YES Gift Shop / Products for Sale: Smoking: Bathrooms:
Recommended Dishes
Perkinsville Pork is available daily. Prime Rib available on Friday & Saturday only.
The Chalkboard changes often. Part of the fun of Bonge's is "not knowing" what's on the board!
Please visit Instagram or FaceBook pages for the latest updates.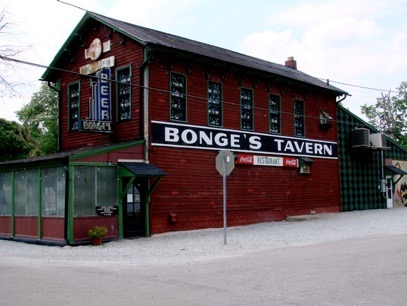 Restaurant Information:
Phone:
Address:
9830 West 280 North
Perkinsville, IN 46011
---
The Restaurant is part of the following trails:
---