Indiana Culinary Trails
Schnitzelbank Restaurant
2019 Marks the Schnitzelbank's 58th Anniversary. Started in 1961 as a tavern now famous German Restaurant. Since 1961, Larry and Betty Hanselman have been the proprietors of the Schnitzelbank Restaurant, a well-known landmark in the predominantly German community of Jasper, Indiana. The Schnitzelbank Restaurant has gone through several transformations over the years and has evolved into a destination in itself, giving patrons an opportunity to dine in an Olde World ambiance. The spacious bar serves up a full line of imported beers, featuring several beers and schnapps from Germany, as well as a variety of German & Indiana wines.
With the help of their six children, and now a new generation of grandchildren, the Hanselmans businesses now includes the Schnitzelbank Restaurant, Schnitzelbank Catering, the Jasper Hampton Inn, Schnitz Brewery & Pub, and KlubHaus 61.
Hours of Operation
8 AM - 10PM Monday - Saturday
CLOSED Sunday
General Dining
Credit Cards: YES
Meals Served: Lunch and Dinner
Dining Classification: Casual
Cost: $$
Menu Style: American and German Food
Alcohol Served: Beer Liquor and Wine
Separate Bar Area: YES
Largest Group Served: 150 people
Meeting Room Capacity: 150 people
Discounts: Group
Entertainment: None
Local / Organic: Local Meat 70% are local meats
Diet Specific: Gluten- Free and Vegetarian Options available
Exterior
Large Parking Lot for Parking
Interior
Seating: Tables and Banquet Room
Hostess on Duty: Always
Gift Shop / Products for Sale: YES - Unique items in gift shop. Bavarion Bancies, coocoo clocks, German Candies
Recommended Dishes
Famous for their German Food and Fried Chicken Dinners.
German Food - German Sampler Platter, Pork Shank Dinner, Pork Chop Dinner, The Bratzel (Sandwich Winner)
All desserts are made in-house. Salad Bar all made in house with specials like pickled herring and cucumber on bar.
Seafood Buffet during Lenten Season.
Bar 100+ Imports of Beer, Extensive list of wine including German and local fare.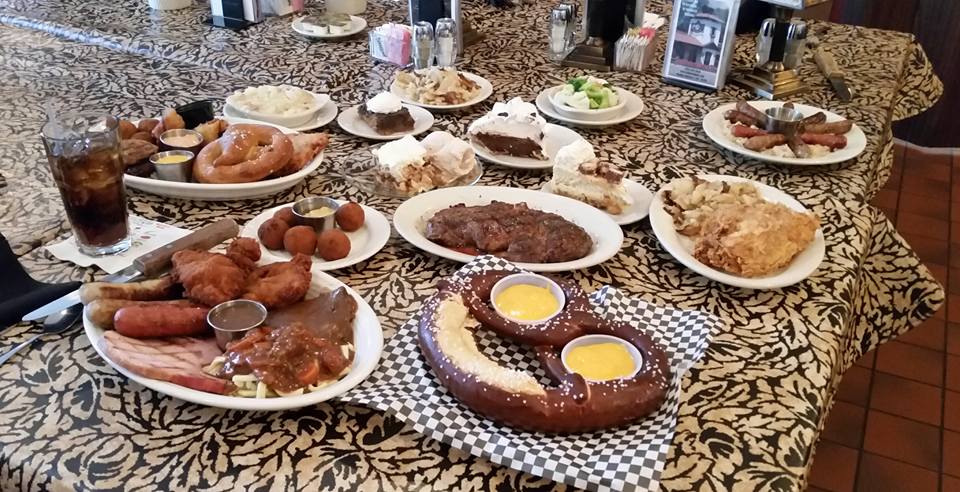 Restaurant Information:
Phone: 812-482-2640
Address:
393 3rd Street
Jasper, IN 47456
---
The Restaurant is part of the following trails:
---