Indiana Culinary Trails
Snaps
About Snaps
In 1872 Cornelius Hurst constructed a saloon and boarding house on the corner of Twelfth and Main Streets in Jasper. Because at the time it was located on the outskirts of town, the saloon was known as the First and Last Chance Saloon. In 1882, A.J. McNerney became owner and renamed the business the Queen City Saloon. The Habig and Eckstein families became the next owners of the establishment, they also operated the brewery across the street. Subsequent owners of the saloon included Gerber, Knapp, Kunkel, Gutgsell and Haas families. In 1928, William Giesler purchased the property and placed two of his sons in charge. One of those sons, Cyril "Snap" Giesler, bought out his father in 1940 and changed the name of the bar to "Snap"s Café. After 60 years in the business, Snap retired in 1989. In November of 1988, the property was purchased by Kresco Rentals. The owners included Bill Kress, Dave Bromm, and Duane Leinenbach. They owned and operated the business as Snap's Café until 1994, at which time Greg Fuzz Martin and Todd Kersteins bought the business. In 1999 Ron and Debbie Flick bought and restored the property and renamed it. The establishment has since then ran under various names. Now the Mitchell family would like to "Thank You" for joining them in the new "Snaps" and hope you enjoy your experience.
Hours of Operation
11 AM to Midnight TuesdayThursday (Dining Until 9 PM)
11 AM to 2 AM Friday (Dining Until 10 PM)
3 PM to 2 AM Saturday (Dining Until 10 PM)
CLOSED Sunday and Monday
Reservations are always welcomed!
General Dining
Credit Cards: YES
Meals Served: Lunch and Dinner
Dining Classification: Casual Fine Dining
Cost: $$
Menu Style: American
Alcohol Served: Full Bar with Beer, Wine, and Liquor
Separate Bar Area: Yes
Largest Group Served: 40+
Meeting Room Capacity: n/a
Discounts: Daily Specials
Exterior
Parking: On Street Parking
Interior
Seating:
Tables and bar
Hostess on Duty:
sometimes
Gift Shop / Products for Sale:
Beer Mugs for sale
Recommended Dishes
Appetizer: Gator Snaps A healthy portion of alligator bites, hand-breaded in our signature Cajun breading. Also available Buffalo-style.
Sandwiches
Tenderloin
A lightly seasoned, hand breaded or grilled center-cut pork loin cut fresh and tenderized in-house. Also available Buffalo-style
Steak - Ribeye : 14 oz. ribeye is cut from the finest selection of meats then lightly seasoned and grilled to your liking.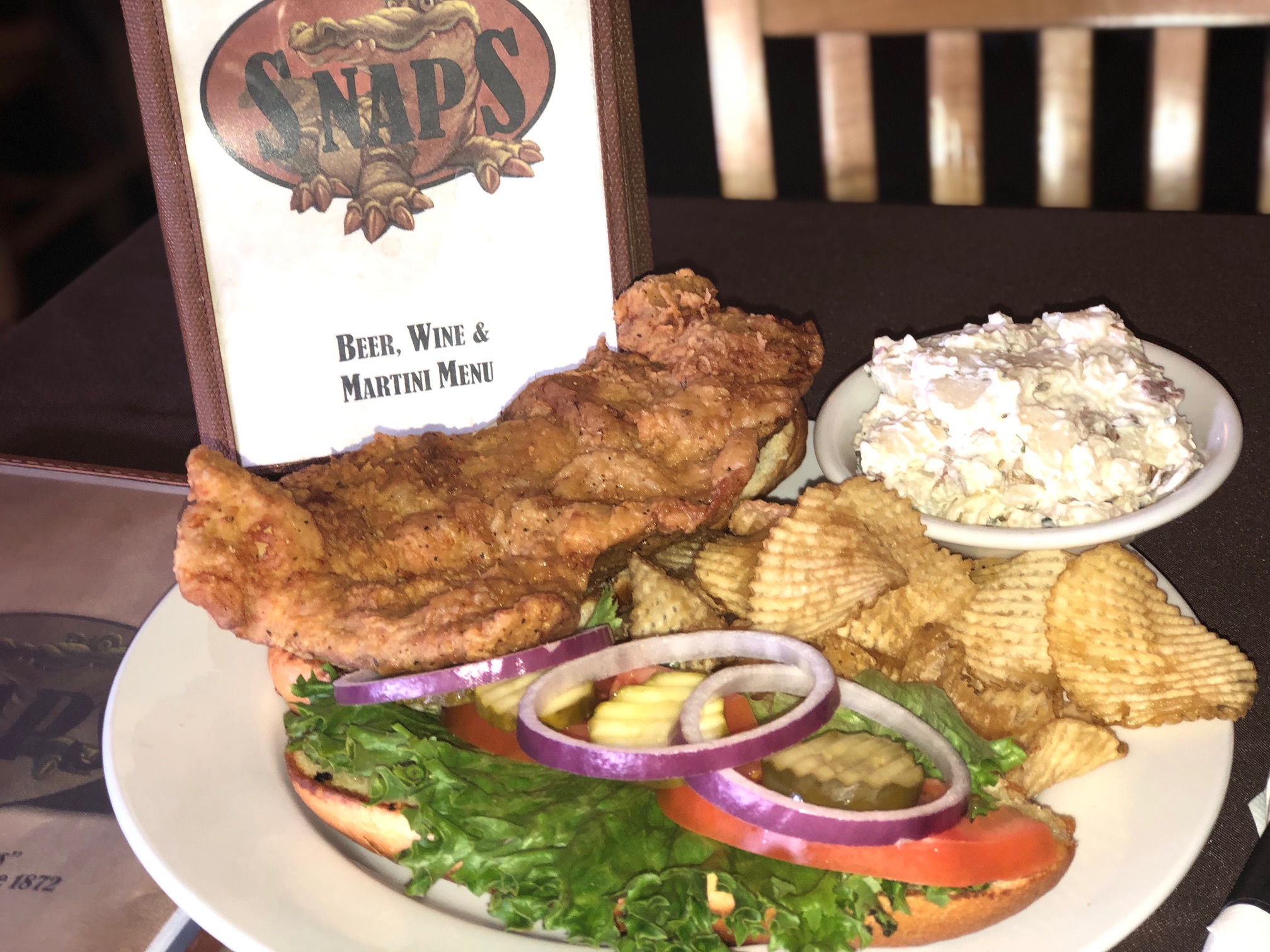 Restaurant Information:
Phone: 812-848-SNAP(7627)
Address:
1115 Main Street
Jasper, IN 47456
---
The Restaurant is part of the following trails:
---