Indiana Culinary Trails
One Ten Craft Meatery
About
One Ten Craft Meatery is a restaurant and meat market located in downtown Warsaw, Indiana. Midwestern farm-to-table food paired with a full bar! Located in downtown Warsaw. Sourced from farms in and around Indiana in order to provide a fresh, genuine taste of the Midwest.
Hours of Operation
LUNCH: 11 to 2 Wednesday through Friday
DINNER: 5 to 9:30 Wednesday through Saturday
General Dining
Credit Cards: Yes
Meals Served: Lunch and Dinner
Dining Classification: Upscale Casual, 21 and older
Cost: $$
Menu Style: Meatery
Alcohol Served: Local, State, and Regional Brews and Spirits
Separate Bar Area: Yes
Largest Group Served: Large Event Area Attached to restaurant. Perfect for corporate events, wedding rehearsals and other events.
Meeting Room Capacity: 50+
Discounts: Specials
Entertainment: n/a
Local / Organic: Locally sourced from Indiana, Michigan, Kentucky, Illinois and Diet Specific:
Exterior
Parking: Street Parking Available
Visible Signage: Visible from Road
Handicapped Accessible: YES
Interior
Seating: Tables
Hostess on Duty: Yes always
Gift Shop / Products for Sale: Support your local food producers year round by shopping at the 110 Market. The 110 Market offers a variety of fresh meat, produce, and baked goods hand picked by 110 staff and purchased from local farms and producers.
Recommended Dishes
Lunch
THE ROMAN SALAD - Charred Romaine, Candied Bacon, Grilled Red Onion, Grana Padano, Croutons, IPA Caesar
110 SOUP + SALAD - Soup Cup, 1/2 110 House Salad, Focaccia
Build A Bowl - Base + Meat + Starch + Veggie + Sauce
Dinner Options
CAULIFLOWER STEAK
Roasted Cauliflower Steak, Mushroom Ragout, Greens,Smoked Walnuts, Beet Puree, Herb Chimichurri
RACK OF LAMB
8 oz Rack, Celery Salad, Soft Poached Egg, Red Wine, Beet Reduction, Black Peppercorn
Steak Variety
110 FILET - 8 oz (Grass-Fed | Grain-Fed) Bleu Cheese Crust, Roasted Radish, Fingerling Potatoes, Shaved Asparagus, Wine Demi-Glace
RIBEYE - 14 oz, Hickory Smoked Sea Salt, Lemon Butter, Mushrooms
PORTERHOUSE - Market Cut, Butcher's Rub, Broccoli, Red Onion, O/E Duck Egg, Black Truffle Oil, House Butter, Garlic Chives
WAGYU TOMAHAWK
(LIMITED QUANTITY | feeds 4-6) Prepared 3 Ways: 110, Classic, Hispanic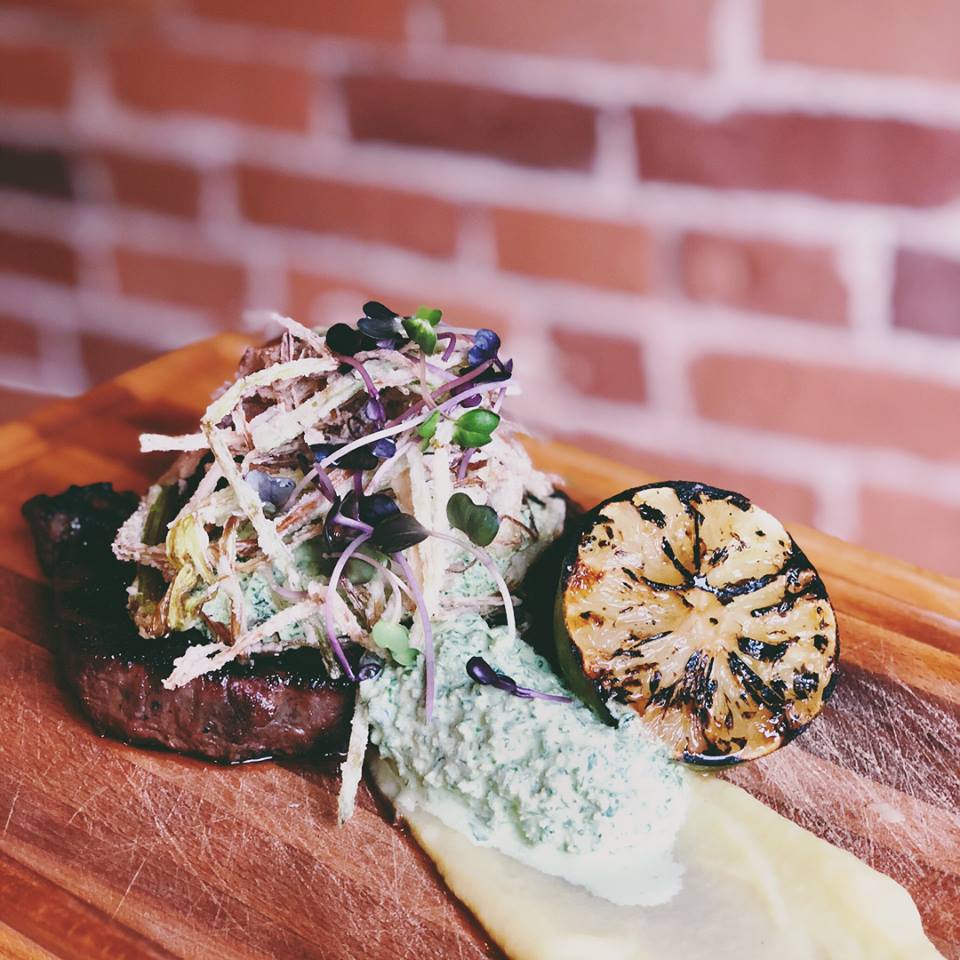 Restaurant Information:
Phone: 574-267-7007
Address:
110 North Buffalo Street
Warsaw, IN 46580
---
The Restaurant is part of the following trails:
---