Indiana Culinary Trails
Harmony Winery
Harmony Winery opens with a rich history of award-winning winemaking. Harmony Winery started with a passion for making fine wines from juice and grapes in 2002. Since then, we have continued to bring central Indiana great wines and unique experiences. Their friendly service and comfortable atmosphere make the small winery one of the best-kept secrets in Knightstown.
Hours of Operation
Hours:
Monday - Closed
Tuesday - Thursday 2:00 - 8:00pm
Friday - Saturday 12:00 - 9:00pm
Sunday 12:00-4:00pm
Parties larger than 8 please call ahead.
General Dining
Credit Cards: Yes
Meals Served: Can order take out and bring into winery
Dining Classification: Winery
Cost:$$$
Menu Style: Casual
Alcohol Served: Wine, Wine Slushies
Separate Bar Area: YES
Exterior
Parking: On Street Parking
Interior
Seating: Tables
Hostess on Duty: NO
Gift Shop / Products for Sale: Wine
Recommended Dishes
DRY, SWEET, WHITE, RED, DESSERT & FRUIT
Suggestions: Red Devil - Dark purple color, notes of blackberry jam, creamy vanilla aromas and a touch of tobacco. The finish is long and fruit-filled, with the perfect amount of toasty oak.
Fiora Rosa (Pink Moscato)- Flavors of strawberry, raspberry, and cherry, pink Moscato is light and refreshing on the palate making it great on its own or the perfect complement to spicy BBQ dishes and fresh fruit.
Ghost Berry - White Cranberry Pinot Gris bursts with the sweetness that has made White Cranberry a unique and popular flavor in juice.
Duet - Ruby red with aromas of dark chocolate and coffee blended with ripe, juicy raspberry jam. Sweet with nuances of cocoa powder and coffee balance perfectly with hints of tangy acidity from the raspberry.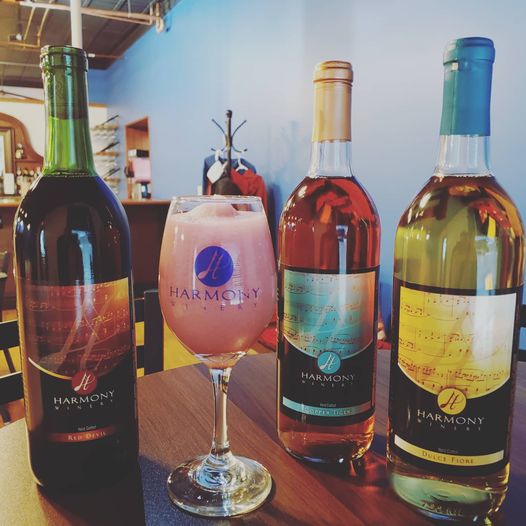 Restaurant Information:
Phone: 317-585-9463
Address:
18 N. Jefferson St
Knightstown, IN 46148
---
The Restaurant is part of the following trails:
---