Indiana Culinary Trails
Junk Ditch Brewing Company










Affine Hospitality
– the team behind
Affine Food Truck
and
GK Baked Goods
– brings craft beer and creative food to the west end of Main Street. Located in the old Korte Paper Company warehouse, Junk Ditch Brewing Company delivers a casual, but refined experience using ingredients from the backyard and farther. With an "everything from scratch" philosophy and a passion for hospitality
Junk Ditch Brewing Company is a casual, refined family dining experience at the old Korte Paper Co. warehouse in downtown Fort Wayne. Our name comes from a tributary of the St. Marys River that runs behind our space, and our philosophy is "Everything from scratch."
Hours of Operation

Mon & Tues Dinner 4:30-10p | Wed-Fri: Lunch 11a-4p/Dinner 4:30-10pm | Sat/Sun: Brunch 10a-4pm/Dinner 4:30-10pm

General Dining
Rustic, brick-walled brewpub with a warehouse vibe offering house brews & globally inspired eats.
Credit Cards: All Major Credit Cards Accepted
Meals Served: Dinner and Weekend Brunch
Dining Classification:
Cost: $$$
Alcohol Served: Beer
Separate Bar Area: YEs
Largest Group Served: Patio seating available
Local / Organic: Diet Specific: Scratch kitchen and local meats. Produce grown in within organization in Greenhouse.


Recommended Dishes
Appetizer
Pretzel & Pub Cheese
Dinner
Soba | Braised Chicken, Slow Egg, Radish, Soy, Mirin, Bok Choy, Sesame Seed, Scallion, Ginger Shallot Oil | 19
Salmon (gf) | Crispy Mushrooms, Onion Miso Puree, Chili Crisp, Mustard Seed, Orange, Shaved Brussels Sprouts, Sesame Lime Vinaigrette |
Wood Farms Filet | Raclette Fondue, Fingerling , Sauce Robert, Brussels Sprout, Blue Cheese Butter|
Chicken Breast (gf) | Brussels Sprouts, Parsnip Puree, Chili Crisp, Fingerling Potato, Red Onion, Microgreen | 26
The Burger & Fries (v/gf) | GK Bun, Woods Farm Beef, Tillamook Cheddar, Fried Egg, Secret Sauce, Pickled Onion, Pickle, Farm Greens, Frites with House Aioli
Frozen Dessert Choose 1 or 3 Scoops | Ice Cream Pecan Rocky Road FroYo Mango Sorbet Lemon Thyme Berry Swirl

Brunch
GK Pastry Board | 6/16 Cinnamon Roll, Raspberry Danish, Bagel with Herb Citrus Schmear
Smoked Turkey Pastrami Hash (v/gf) | 16 Red Potato, Onion, Golden Beets, Pea Shoot, Mushroom, Corn, Brussels Sprout, Carrot Bell Pepper, Truffle Demi, Ginger Scallion Creme Fraiche, Fried Duck Egg, Micro Basil, Scallion
JDBC Grand Slam (gf) | Two Eggs, Crispy Potatoes, GK English Muffin, Honey Butter, Choice of Breakfast Sausage, Sausage Link, House Bacon, or Falafel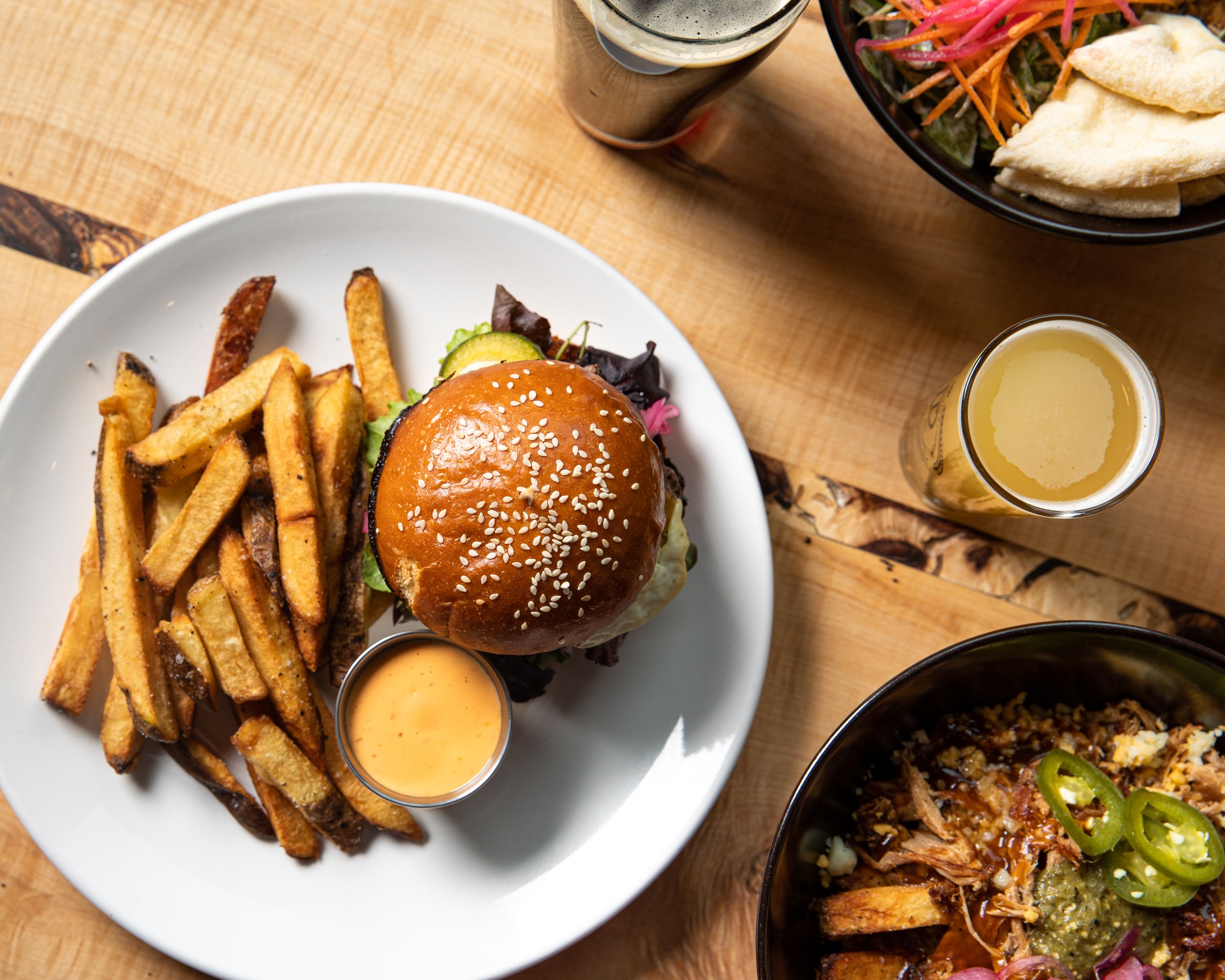 Restaurant Information:
Phone: (260) 203-4045
Address:
1825 WEST MAIN STREET
Fort Wayne, IN 46808
---
The Restaurant is part of the following trails:
---