Indiana Culinary Trails
Gaslight Pizza & Grill
Originally opened in 1942 as the Victory Theater. It became the Gaslight Restaurant & Theater in 1972. Pizza has been the main food attraction for 4 decades.
Over the years many different foods have been offered, but now know as the Gaslight Pizza & Grill we have settled into offering unique specialty sandwiches(i.e. hoagies/grinders) along with some dinners and appetizers.
We also offer a complete bar service which is located in the original theater area. Entertainment has also been a staple offering since the late '70s.The Gaslight Pizza and Grill is a family-owned restaurant that is dedicated to serving the community. We have been in business for over 49 years.
Join them for live music, fresh pizza, cold beer, and a good time tonight!


Hours of Operation
Monday - Tuesday 4PM - 9PM
Wednesday - Saturday 11AM-10PM
Sunday 11AM-8PM


General Dining
Credit Cards: All Major Credit Cards Accepted
Meals Served: Lunch and Dinner, Times Vary
Dining Classification: Casual/Family
Cost: $$
Menu Style: Bar & Grill, Pizza
Alcohol Served: Beer, Liquor
Separate Bar Area: Yes
Largest Group Served: Call for more details
Meeting Room Capacity: N/A
Discounts: N/A Entertainment: Live Music
Local / Organic: Diet Specific: N/A
Exterior
Parking: Large Parking Lot / Handle Buses
Visible Signage: From Road / Sign on Building / From Highway
Interior
Seating: Tables
Recommended Dishes
Pizza, Gyros, Catfish, Pork Chop Dinner, Baked Tortellini, Spaghetti, Johnny Dart Hoagie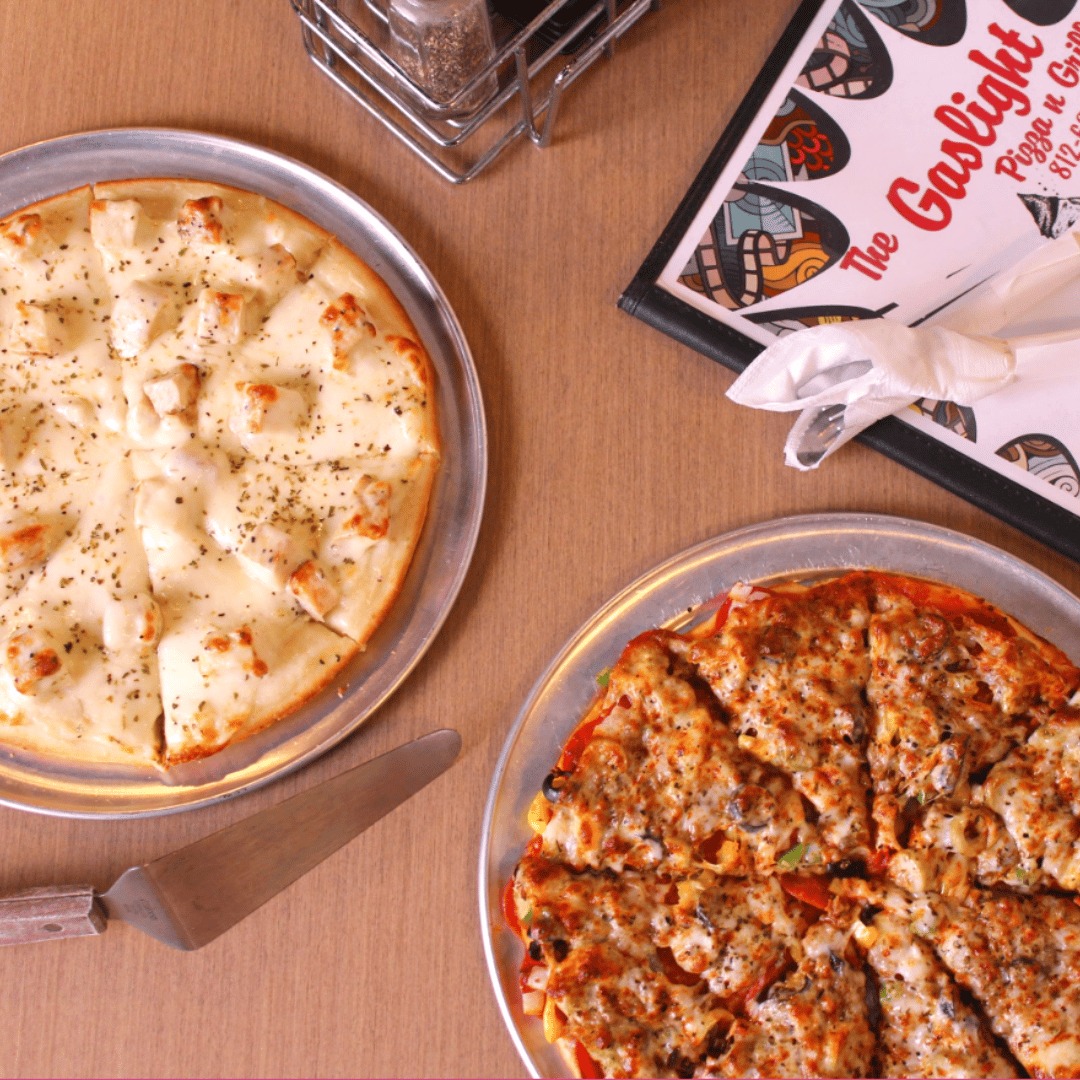 Restaurant Information:
Phone: 812-683-3669
Address:
328 East 4th Street
Huntingburg, IN 47542
---
The Restaurant is part of the following trails:
---