Indiana Culinary Trails
Stop 25: Hoosier Pie Trail™ Trail
Oasis Diner


Hours of Operation
MONDAY - THURSDAY 7:00 AM - 9:00 PM
FRIDAY - SATURDAY 7:00 AM -10:00 PM
SUNDAY 7:00 AM - 3:00 PM
General Dining
Credit Cards: All Major Credit Cards
Meals Served: Breakfast, Lunch and Diner
Dining Classification: $$
Cost: Most meals tickets average $12.00 and under
Menu Style: American
Alcohol Served: No
Separate Bar Area: No
Largest Group Served: N/A
Meeting Room Capacity: N/A
Discounts: No
Entertainment: Seasonal Live Music
Local / Organic: Use local food distributing company and Seasonal Local Food Producers
Diet Specific: Gluten Free Options
Exterior
Parking: Large Parking Lot / Handle Buses Visible Signage: From Road / Sign on Building / From Highway Handicapped Accessible: On Historical Byway US $0 visible from Highway
Interior
Seating: Diner counter style seating as well as booths and tables. Outside seating during warmer months.
Hostess on Duty: yes
Gift Shop / Products for Sale: Oasis homemade sodas including Butterscotch Root Beer and in-house bakery.
Recommended Dishes
Breakfast - INDIANAPOLIS- COUNTRY FRIED TENDERLOIN Hand breaded Indiana pork loin covered with our homemade sausage gravy. Served with two eggs, home fries and a side of toast.
Lunch & Dinner -
THE ORIGINAL TENDERLOIN Hand breaded Indiana pork loin, fried or grilled served on a toasted bun with lettuce, tomato, onion, pickle and garlic mayo.
THE OASIS BURGER Pulled pork, barbecue sauce, bacon, coleslaw, pickles, cheddar cheese and garlic mayo on a toasted bun.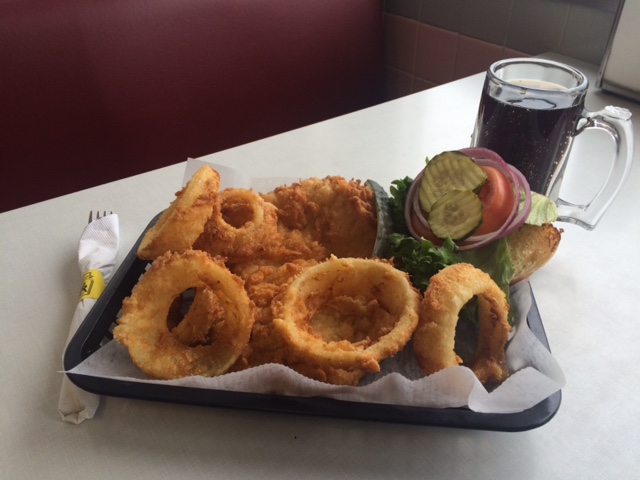 Restaurant Information:
Phone: 317-837-7777
Address:
405 West Main Street Plainfield, Indiana 46168
Plainfield, IN 46037
---
The Restaurant is part of the following trails:
---